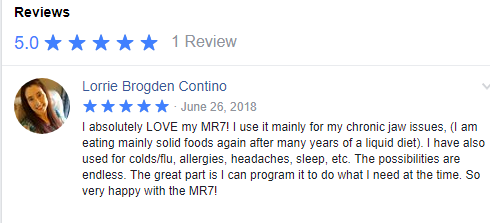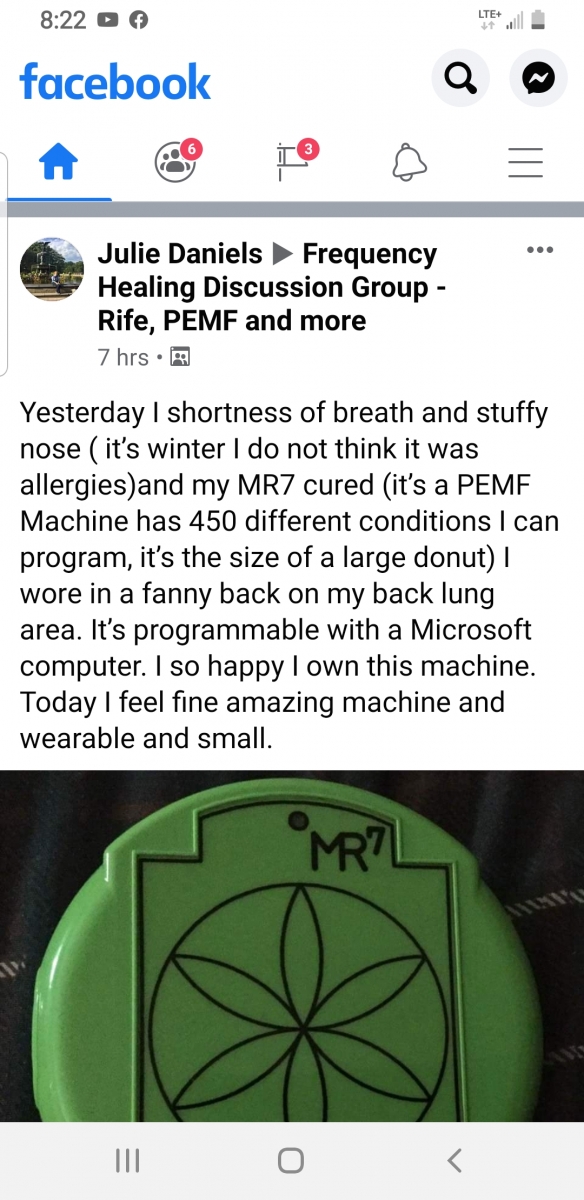 ____________
Reviews
I received the delivery today, all safely transported.
I can report good results already from the MR7, which has been a landmark improvement on my progress.
Many thanks on this business deal. I appreciate the care that has gone into the distribution of the goods.
Michael
____________
I used this after my squamous cell cancer surgery on Wednesday afternoon. Removed the bandage on Saturday and the steri strips on Sunday. The incision was 2" long and the chunk that was removed was football shaped, 1" at the wide point. totally healed no leakage, no swelling, no bruising and no pain. Love my MagRez-B!!
Tom A.
____________
I have been using equipment from Wellness PEMF for about two years for clients, family and self. I recently had an issue with the software that was loaded on my sister's computer and requested some technical support. I was visiting from across the country and was somewhat doubtful that I would actually be able to get help since I called on a Saturday and was leaving Monday morning. Marcus responded to me very quickly and forwarded my message to the Rod, the developer of the software program. I got a call back on Sunday and he resolved the issue quickly and easily.
I could not be more pleased with the customer support. I have had great experiences with the product and the people at Wellness PEMF.
Lorie L.L.
____________
My right lower inside of my knee has been killing me for months I've been treating it successfully with my skill set but it still hurts I put a magrez b running emotional Re-balance and it's 50% better overnight
Thanks Marty
____________
I have been using my MagRez B day and night. I'm very grateful to have it. I've been getting outstanding results
Joan H.
____________
Ok. So I was going to tell you on phone but here it is: After first night with your Joint PEMF device, I was able to raise my arm without pain all the way over my head. 1st time in I cant tell you how long. I Was speaking with a nurse, because I had p.t., she asked what happened and in telling her I also told her how after 1 night using this I was able to lift my arm and be pain free!! She said I am your waking billboard lol. I need more cards so I can hand out and we can help people ..
Carol T
____________
Thank you so much for the MR7. I just got back from Downtown Key West for a week. I was able to walk everywhere without pain or pain meds for my low back and hip pain.
This is the first time in 15 years I could go on vacation and not need pain meds just to get out of bed. Thanks again!
Bonnie H.
____________
I would like to give you praise for the prompt, thorough, clear communication, and help that you have shown since I expressed interest and now bought some of your equipment. Also, your software is far superior to other FSM software.   
Mike S.   
____________
This is my second month with the MR7.  I'm doing great.  Haven't taken Wellbutrin in a month. Seem to be managing ok.  Thank you.   
Tom     
____________
I had to stop doing real estate because I had back surgery in March.  If it wasn't for the MR7 I wouldn't be able to get out of bed.  Thanks so much! 
Daune 
____________
The MR7 has changed my life basically in 2 months. I was bed ridden a lot before using the MR7 and now I feel great. Thank you so much!   
Pat G   
____________
The EM272B is the One :) Oh boy lots of fun. I have a CustomCare, TimeWave, and EM and in all honesty, this is by far the most user friendly software I have ever worked on. Simplicity is the ultimate level of sophistication, as they say .... I am very grateful for having this incredible piece of equipment in my life.
Magdalena C   
____________
The Sleep PEMF simply works great! Thanks! 
Kevin B  
____________
I have been using the MR7 magnetic frequency disc for approximately a year and a half. I was in a lot of pain, due to my right hip joint being bone on bone. I had several treatments at the office. I had instant relief. I sleep better and have much less pain. I would recommend this to anyone who is suffering from pain like I was. I wear mine 24/7, even at night, because the pain does not wake me up any longer.  
T-Bone B   
____________
Marcus, I am pleased at my results with the equipment and your terrific customer service!  
Hope Z   
____________
Tanner Kellogg, who just received a puck (MR7) says it works very well. He is "up there" at the Airforce Base. He letting the docs know how well the pucks work. I also am treating another soldier at the base. Working very well!  
Kevin B 
____________
MR7 to the rescue! I was treating a lady in December and January for fibromyalgia with Frequency Specific Microcurrent. She was making progress and her pain was slowly diminishing, then she had to go west for a family emergency. I set up the MR7 for fibromyalgia, facet joint chronic, and disc chronic programs using the Pro version of MR7 Pulsed Frequency software. She returned today 4 months later, NO pain!!! She used the MR7 every day while she was away.  
Tom A  
____________
Just had trigger finger surgery yesterday. I programmed the post operation protocol on to the MR7. Attached MR7 in the photo, two hours after surgery as instructed. Today, no pain or swelling and incision looks great...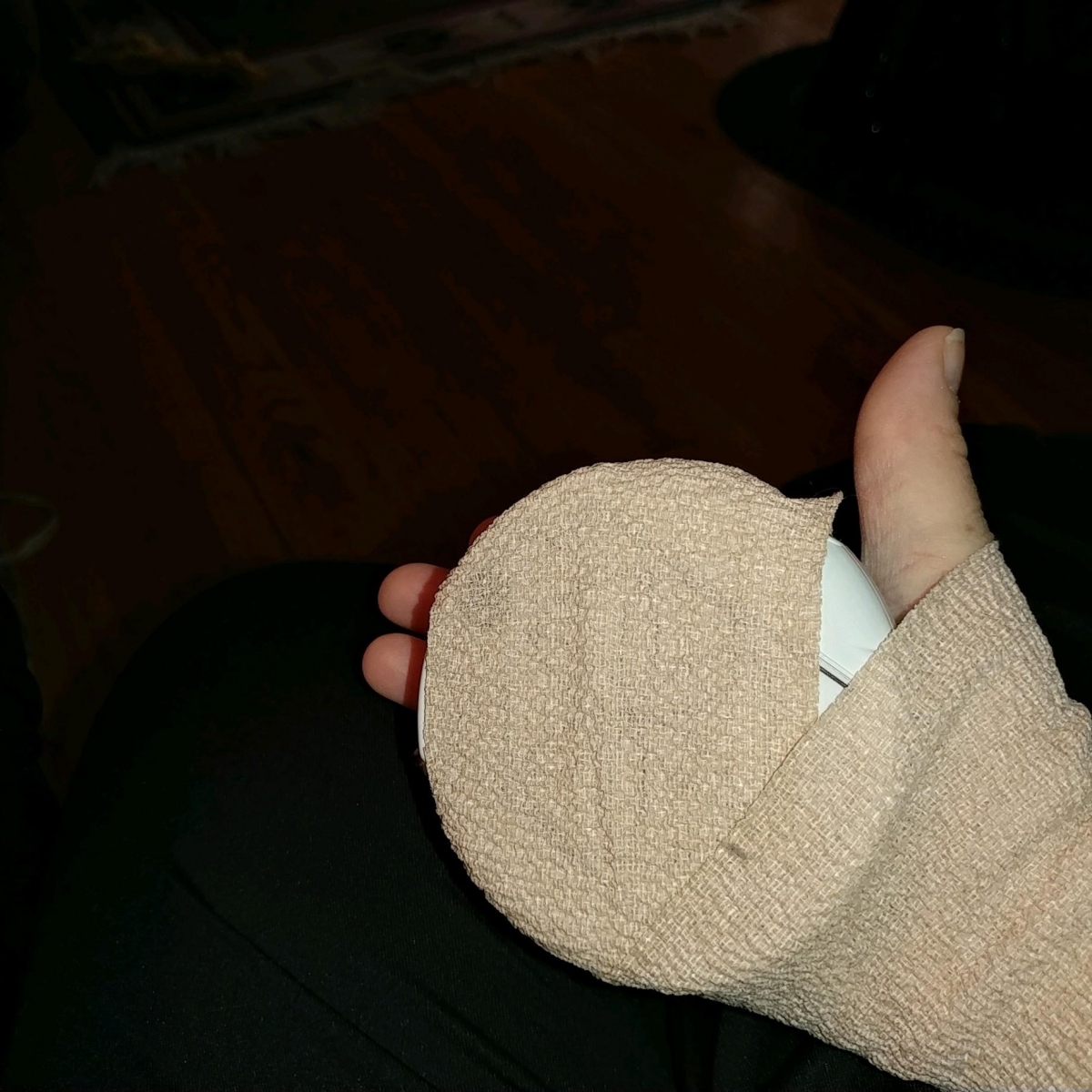 Deb H 
____________
I purchased the magnetic converter made specifically for Precision Distributing Frequency Specific Microcurrent products, in 2017.  I work mainly with animals and the magnetic converter changed my treatment options dramatically.  No more wet towels on animals that want to move around!  The magnetic star discs can be held in place with straps, and animals can actually move during sessions.  This works really well on humans too.  The convenience cannot be beat.  Thank you for developing this product.     
L.M.
____________
I just wanted to let you know that I completed the 10 hours of driving I needed to do last night and this morning. I used the MagRez the enitire time. It's the first time in a couple of years or so that I've done a long drive like this without a good deal of stiffness and soreness in my back. Honestly, I was hoping it would work, but didn't think it would work this well. It was a totally different travel experience being able to drive without the pain. I will certainly not be traveling without this in the future. Very happy with the device, thank you!!!
Andrew M
____________
I just wanted to share firsthand how great my experience has been!!
In January I had a scaphoid Non-Union surgery! The doctor used a Vascularized Bone Graft to help heal my non-union. Initially the wrist wasn't healing very well based on the x-rays... I was using the regular recommended therapy device and there wasn't much change on the x-ray from that. I received my Joint PEMF/MR7-2 device and after just a few weeks of using the device 12+ hours a day, THERE WAS AN INCREDIBLE IMPROVEMENT IN MY SCAPHOID BONE!!!! Each time I would have follow-up images, the improvements kept increasing!!! Even my Surgeon was surprised how the sudden change took place in my healing!! I am in the final stages of healing. and every time I use the device I can clearly feel a major difference and the proof is in the X-RAYS!!!
With Gratitude!!! 
Brandon M